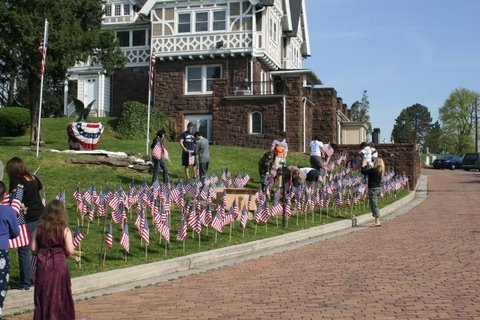 York's historic Prospect Hill Cemetery held a flag updating ceremony on Veterans Day, November 11, 2010 at 12:30 p.m. One hundred sixty-six flags (12 for Iraq, 149 for Afghanistan, 5 for Pennsylvania) were added to the 5,879 flags already on display. In addition, two new fallen hero banners were unveiled, honoring soldiers who have been killed while serving in Afghanistan.
The Iraq War Flag Memorial consists of three distinct collections of flags. The first symbolizes soldiers killed in Iraq, the second honors servicemen who have perished in Afghanistan, and the third recognizes our fallen Pennsylvania troops. During the service, participants read the names of America's latest losses. A new flag was placed into the ground and a bell tolled to honor the fallen. The service concluded with a gun salute from the York County Veterans Honor Guard, a dove release, and a bagpipe rendition of Amazing Grace.
During the service, two soldiers with local ties were honored posthumously with fallen hero banners. The first banner paid tribute to Sergeant First Class Daniel Suplee, who was a member of the U.S. Army National Guard's 53rd Brigade/153rd Calvary. Sergeant Suplee was helping to evacuate wounded soldiers when he was injured during a vehicle collision in Kabul, Afghanistan in 2006. His wife and children currently reside in York County. Suplee's banner was commissioned at the family's request and sponsored by Brooks-Huff Tire & Auto Centers.
A second fallen hero banner recognizing Marine Lance Corporal Ralph J. Fabbri was also added at the request of Fabbri's family. Lance Corporal Fabbri was a combat photographer on patrol in Helmand Province in September, 2010 when he was shot and killed. His immediate family lives in York County. Military & Commercial Fasteners has provided the funding for this project.