John H. Saltzgiver, Horace F. Strine & Lewis M. Strubinger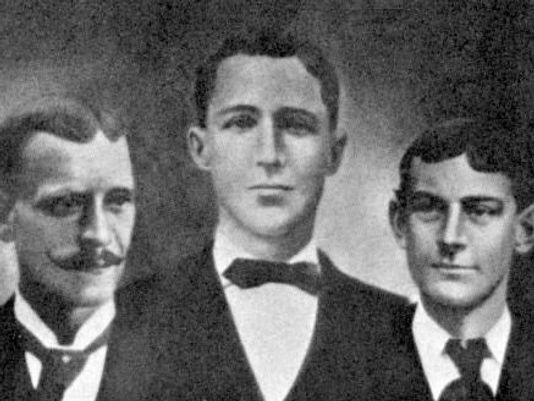 Vigilant Fire Company
April 6, 1904
Killed by building collapse at York Carriage Works fire. Saltzgiver, Strine and Strubinger were crushed and trapped by falling walls while fighting the fire at the York Carriage Works complex on West North Street. The three-alarm fire was sounded from Box 27 at the Variety Iron Works. The wall fell over six hours after the original alarm of fire was sounded. The three men were inside the rear of the building with a hose line when the wall fell.
Goodwill Fire Company
December 2, 1909
Killed in fall from horse-drawn apparatus. Spangler was at the Goodwill when an alarm of fire was sounded from Box 19 at King Street and Columbia Avenue. The driver was out of the station for supper. Spangler decided to drive the steamer to the call. Spangler was thrown from apparatus and killed while responding to the fire at 121 Orange Street.
Rescue Fire Company
June 6, 1915
Killed in fall from horse-drawn apparatus. While preparing the apparatus to drive to an alarm of fire at Box 126, Jackson and Beaver Streets, the horses bolted and Bush was pulled from the apparatus and run over and killed when responding to a garage fire to the rear of 143 West Jackson Street.
Eureka Fire Company
July 17, 1918
Killed in a fall from a hose cart being pulled by a car. On July 6, 1918, a field fire on Rehmeyer's farm was threatening the buildings of Mrs. John W. Kohler. The Eureka hose cart was attached to an automobile by rope to pull it to the fire, and Gemmill rode the hose cart to try to control it. When the auto and hose cart went over a crossing at Manifold's Mill, Gemmill was thrown from the hose cart, striking the ground on his chest and stomach. He was taken home and tended to by Dr. Free. On July 16th he was taken to York Hospital due to complications from those injuries, and succumbed to those injuries at York Hospital on July 17th.
Delta-Cardiff Fire Company
September 18, 1919
Fell under wheels of hose wagon responding to Whitaker's Ice House fire. Findley and other members were pulling the hose wagon to a fire at the ice house of Butcher Frank Whitaker. As the wagon was being pulled up an incline on Main Street, Findley stumbled and fell, and the hose wagon passed over his abdomen. Findley was carried to the nearby front porch of Doctor R. W. Ramsey, where he died.
Rex Hook & Ladder Company
January 8, 1928
Killed by falling wall at Susquehanna Garage fire. Strebig was crushed by a wall blown out by a natural gas explosion on the second floor of the Susquehanna Garage at 825 Cleveland Ave. during a structure fire. The two-alarm fire was sounded from Box 126 at Jackson and Beaver Streets.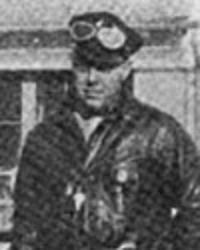 North York Borough Police Department
May 21, 1929
Patrolman Sowers was shot and killed as he and other area law enforcement officers attempted to arrest a man wanted for stealing two calves. An arrest warrant had been issued for the man 6 months earlier, but the man fled to Virginia to avoid being arrested. The suspect eventually returned to York County and threatened to kill anyone who attempted to arrest him.
A local constable received information that the man was at his father's home. When the officers arrived, Patrolman Sowers covered the back door as the other officers went to the front door. When they knocked on the door, the man attempted to flee out the back but was confronted by Patrolman Sowers. The man opened fire with a shotgun, striking Patrolman Sowers in the face and killing him instantly. The suspect escaped, but was arrested 5 days later when he returned to the house in an attempt to get food. He was convicted of first degree murder and sentenced to life at hard labor.
Patrolman Sowers was a U.S. Army WWI veteran. He had served with the North York Police Department for just under 2 years and was survived by his wife.
Rescue Fire Company
May 11, 1934
Run over when he slipped under apparatus at Rex Station. Hugentugler died as a result of injuries sustained on May 8, 1934 when he slipped under apparatus in front of the Rex fire station and had his right leg broken and his left hip dislocated. The apparatus was responding to a fire alarm from Box 138 at College Avenue and Hartley Street.
Laurel Fire Company
October 29, 1940
Died from a cardiac event while operating at a fire on West Princess Street. Greiman responded to Box 131 at College and Pershing Avenues. Greiman was operating the Laurel booster engine at the scene of a fire at 242 West Princess Street when he collapsed. Greiman was rushed to the hospital in a police car, where he was pronounced dead from a coronary occlusion.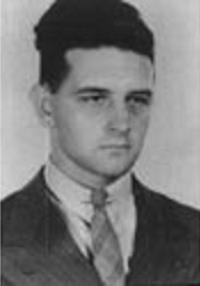 Pennsylvania Motor Police
October 17, 1942
Private Zeigler was killed in an automobile accident while patrolling U.S. Route 15 near Dillsburg, Pennsylvania. His patrol car was struck by another vehicle. Private Zeigler was transported to a local hospital where he succumbed to his injuries six days later. Private Zeigler had been with the agency for one year and was survived by his father.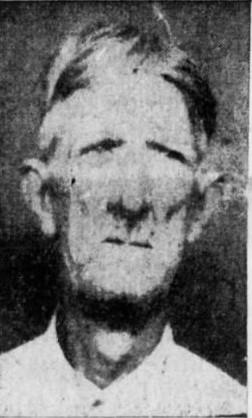 Eagle Fire Company
February 25, 1943
Fell trying to board a moving apparatus in front of the Eagle Station. Rudy tried to board and fell from a moving apparatus and was killed. The engine was responding to a grass fire sounded from Box 53, Vander and Boundary Avenues.
Jacobus Lions Club Ambulance
March 2, 1957
Had just delivered a patient to the hospital when he collapsed in the Emergency Room. Leader was driving the Jacobus Lions Club ambulance, which responded to a motor vehicle accident involving two cars and a tractor-trailer on the Susquehanna Trail two miles south of Loganville. Seven people were injured in the collision. Leader had just brought several victims to the Emergency Room at York Hospital, when he suddenly collapsed in the Emergency Room. Leader was unable to be revived.
Vigilant Fire Company
March, 29, 1957
Died from smoke inhalation and cardiac issues at the Rothert Building fire. Wills died at York Hospital from smoke inhalation and an existing cardiac condition after being transported from a two-alarm fire at the Rothert Building at 42 through 52 South George Street.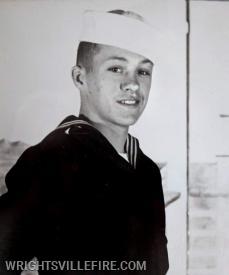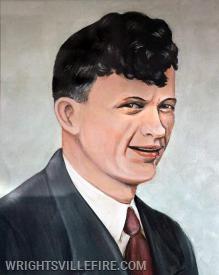 Wrightsville Fire & Hose Company
November 14, 1961
Died as the result of burn injuries in a fire at Strickler's Auto Service. Firefighter Yohe responded with his department to a car fire inside Strickler's Auto Service at Ninth and Hellam Streets. Yohe and Firefighter Wilmer Oakes entered the building to fight the fire. Oakes noticed a pan of flammable liquid on fire under the vehicle, and exited the building to obtain a pike pole to move the pan. As Oakes returned to the building, Yohe was on fire fleeing the building, and succumbed to his injuries.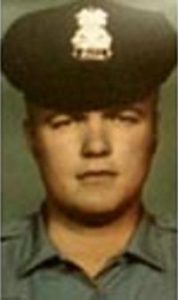 York City Police Department
August 1, 1969
Police Officer Henry Schaad was shot and killed during race riots which had taken over the city in the summer of 1969.
He and two other officers were responding to the scene of a shooting when a suspect opened fire on their armored police vehicle. The round penetrated the one-eigth steel sides of the converted armored bank truck and fragmented. One of the fragments struck Officer Schaad in the chest, causing major internal injuries. He was transported to a local hospital where he succumbed to his injuries two weeks later.
In October 2001 two men were arrested and charged with Officer Schaad's murder. On March 13th, 2003, both suspects were found guilty of second-degree murder and sentenced to prison terms of ten and 19 years respectively.
Officer Schaad had served with the York City Police Department for 10 months. He was survived by his wife and five-year-old daughter.
York City Fire Department
February 25, 1971
Crushed by a falling tree while riding in a ladder truck. While returning to the station from a training exercise, a large tree fell across the cab of the tractor-drawn aerial truck he was riding in, pinning him to the back of the cab. Harrison died later that evening at the hospital.
Eagle Fire Company
March 24, 1981
Suffered a cardiac event upon arriving at a residential structure fire. Ahrens, 47, responded in his personal vehicle to a residential structure fire in East Manchester Township. Personnel arriving at the scene of the fire found Ahrens slumped in his truck at the fire scene shortly before 8:00 a.m. Ahrens was transported to Memorial Osteopathic Hospital where he was pronounced dead.
Jefferson Fire Company
October 18, 1981
Suffered a cardiac event while fighting a structure fire. Myers was operating at the scene of a structure fire on Blue Hill Road in Manheim Township. The fire was extinguished, and Myers was preparing to leave the scene when he was stricken with a cardiac event. Myers was transported to the hospital where he was eventually pronounced dead.
Newberrytown Fire Company
January 5, 1982
Died from injuries suffered after falling from an apparatus responding to a fire. Fogle was responding to a chimney fire when he suffered a seizure as the result of atherosclerotic cardiovascular disease and fell from the apparatus on Susquehanna Trail north of Stevens Road. Despite attempts to revive him, Fogle was pronounced dead upon arrival at the hospital.
Franklintown Fire Company
November 28, 1982
Died from a cardiac event in station in response to an alarm Stough responded to the Franklintown fire station to answer an alarm of fire. While in the station, Stough collapsed from an apparent heart attack. The Dillsburg ambulance responded to the station, and transported Stough to Holy Spirit Hospital in Camp Hill. Stough died at the hospital.
Jefferson Fire Company
August 9, 1983
Electrocuted while moving a ground ladder at an electrocution incident. Stauffer responded with his fire company to a report of an electrocution at Christ UCC Church on Baltimore Street in Jefferson. At the scene they found two victims that had been electrocuted when their 40 foot ladder contacted electric transmission lines. The ladder was in an awkward position, so Stauffer and another firefighter attempted to secure the unstable ladder when it contacted the electric lines a second time. Stauffer was pronounced dead shortly after arriving at the hospital.
Citizens Fire Company
December 17, 1990
Killed when the apparatus he was riding was struck by a vehicle while responding to a call. On 12/16/1990, Firefighter Hicks responded on Engine 56-1 to a cardiac call. He was riding on the rear step, when an automobile struck the left side of the engine (engine did not stop at the stop sign). The apparatus rolled over and Firefighter Hicks was pinned under the wreckage. He was extricated and airlifted to the hospital, but died during surgery a short time later. Four other firefighters were injured in the crash, two of them riding the tail step with Hicks.
Yoe Fire Company
December 2, 1993
Suffered a cardiac arrest in station after returning from an EMS call. Moyer had responded to assist on an emergency medical call, and returned to the station. Upon arriving at the station, Moyer reported that he wasn't feeling well, and sat down in a chair in the radio room, at which time he suffered a cardiac event and died.
Laurel Fire Company
June 26, 1998
Struck and killed while directing traffic at a motor vehicle accident. Fire Police Lieutenant Rohrbaugh was directing traffic at the scene of a motor vehicle collision. He was struck from the rear by a pickup truck. The pickup left the scene without stopping. Lieutenant Rohrbaugh was thrown 97 feet and landed along the side of the road. EMS was provided at the scene but Lieutenant Rohrbaugh's injuries were too severe.
Pleasant Hill Volunteer Fire Company
December 29, 1999
Suffered a heart attack in station after performing work at the station all day. Safety Officer Kaltreider had been at the fire station for most of the day performing year end computer work and assuring that his department was prepared for Y2K. As he discussed the upcoming purchase of some communications equipment with another firefighter, he was struck with a heart attack. Firefighters immediately began attempts to revive Firefighter Kaltreider, but they were unsuccessful. Firefighter Kaltreider had a history of heart disease dating back to 1990.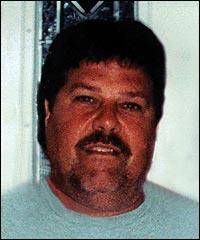 Newberry Township Fire Department
December 17, 2004
Died of thoracic aneurysm while responding to a call in his personal vehicle. Firefighter Caldwell and a passenger were responding in Firefighter Caldwell's personal vehicle to a report of smoke in a residence. As they drove, Firefighter Caldwell began to cough up blood. He pulled the car to the side of the road, and the passenger summoned assistance using a fire department radio. Despite efforts at the scene, in transit, and at the hospital, Firefighter Caldwell died. Firefighter Caldwell suffered from a thoracic aneurysm, the failure of a blood vessel.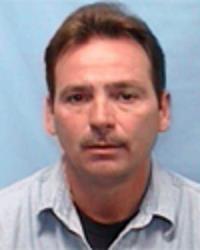 York County Sheriff's Office
January 10, 2005
Deputy Edward Schroeder suffered a fatal heart attack while conducting mandatory training at the Deputy Sheriff's Academy at Pennsylvania State College. He was jogging on an indoor track when he collapsed.
Deputy Schroeder was a U.S. Marine Corps veteran. He had served with the York County Sheriff's Department for 18 months, and is survived by his wife and mother.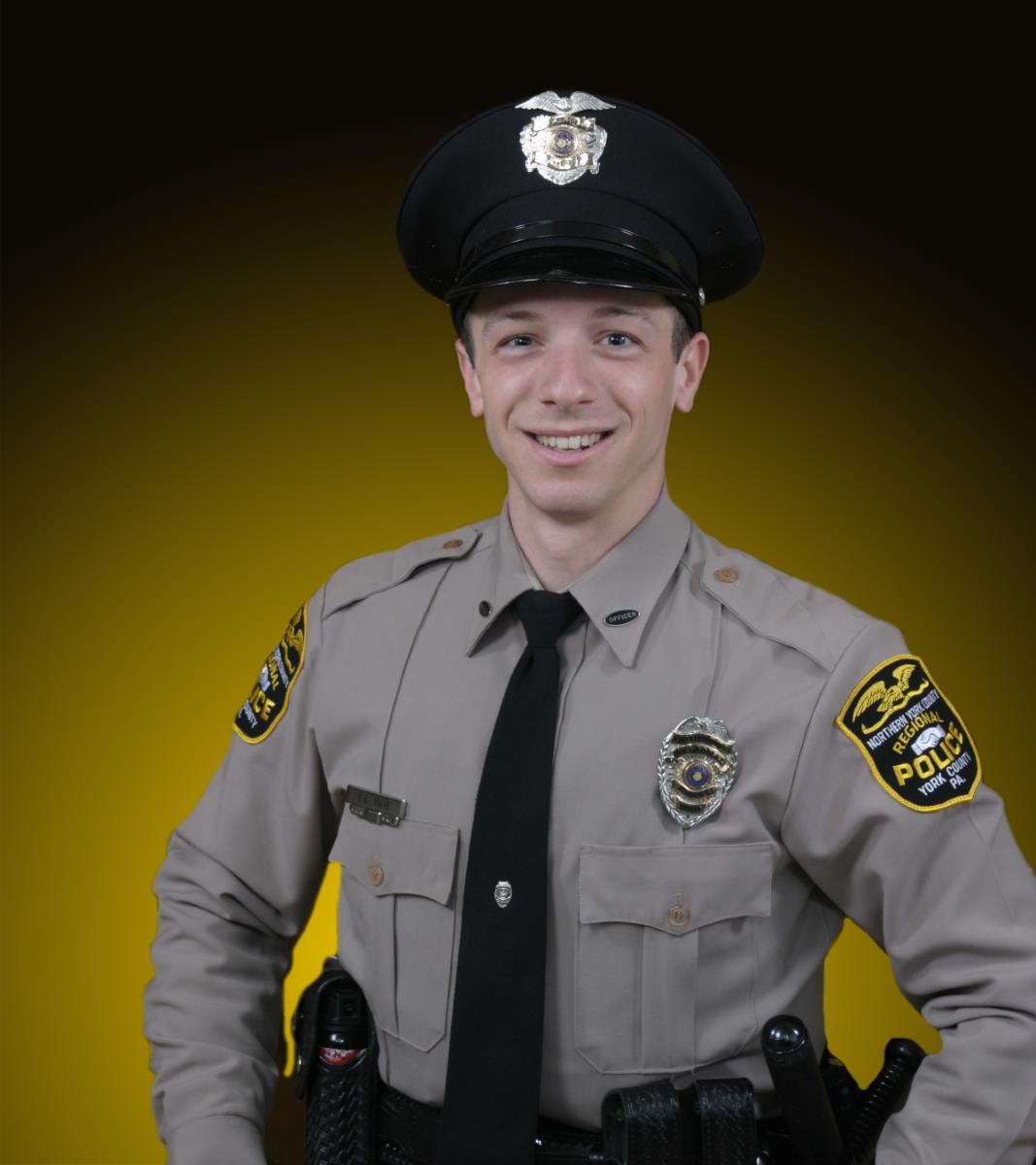 Northern York County Regional Police Department
October 21, 2008
Officer David Tome was struck and killed by the driver of a vehicle while investigating a fatal accident that had occurred earlier in the week.  He and other officers had returned to the scene to conduct an accident reconstruction on Route 15, near Clearsprings Road, in Franklin Township. Despite having cones set out to close the right lane of traffic, Officer Tome was struck by an SUV and thrown over a guardrail. He was killed instantly.
The woman who struck him was talking on a cell phone and applying makeup when she struck him. On November 30, 2010, she was sentenced to one to five years in prison, plus two years of parole.
Officer Tome had served with the Northern York County Regional Police Department for 5.5 years. He is survived by his wife, two children, mother, step-father, and sister.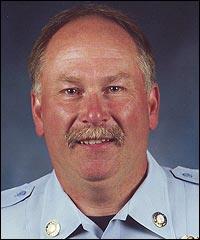 Delta-Cardiff Fire Company
August 23, 2010
Suffered a cardiac arrest off-duty after staffing an engine for a barn fire. On August 22, 2010, Firefighter Farrington responded to his fire station for a mutual-aid barn fire. He missed the response but remained in the fire station to staff a backup engine. Firefighter Farrington was at the fire station for about an hour and assisted other firefighters in cleaning and putting the equipment back in service when they returned from the response. Firefighter Farrington went home at approximately 2230 hours. The next day, Firefighter Farrington worked in the morning at his full-time job as a fire inspector and then left work to complete a mowing job. At 1105 hours, Firefighter Farrington momentarily lost consciousness. Another firefighter assisting with the mowing job called for EMS. When the ambulance arrived, Firefighter Farrington had gone into respiratory and cardiac arrest. He was pronounced dead at 1219 hours after arriving at the hospital. His death was caused by a heart attack. Incident Location: 690 Nace Road in Peach Bottom Township.
Christian D. Beaston, Jr.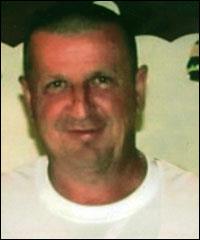 Hellam Fire Company
December 7, 2011
Died of a medical emergency after responding to a motor vehicle accident. On December 6, 2011 at 3:10 p.m., Fire Police Officer Beaston responded to a motor vehicle accident with injuries. Beaston manned a traffic control point for the duration of the incident. The next day, Beaston suffered a cardiac event at home. An ambulance from Wrightsville and an advanced life support unit from Memorial Hospital responded to his home, and transported him to the hospital where he was pronounced dead.
Loganville Fire Company
April 27, 2013
Struck and killed by an alleged drunk driver while directing traffic on Interstate 83. While directing traffic near the scene of a motor vehicle accident (MVA) on southbound Interstate 83, Fire Chief Miller was struck and killed by a motorist attempting to drive around the traffic control point and Miller's fire department vehicle which was well marked with emergency lights operating at the time. The driver of the vehicle did not stop his vehicle after striking the chief. After being caught further down the Interstate in the backed traffic from the original MVA, the driver was arrested and subsequently charged with homicide by vehicle while driving under the influence along with several other violations. Incident Location: Southbound I-83 near Exit 8.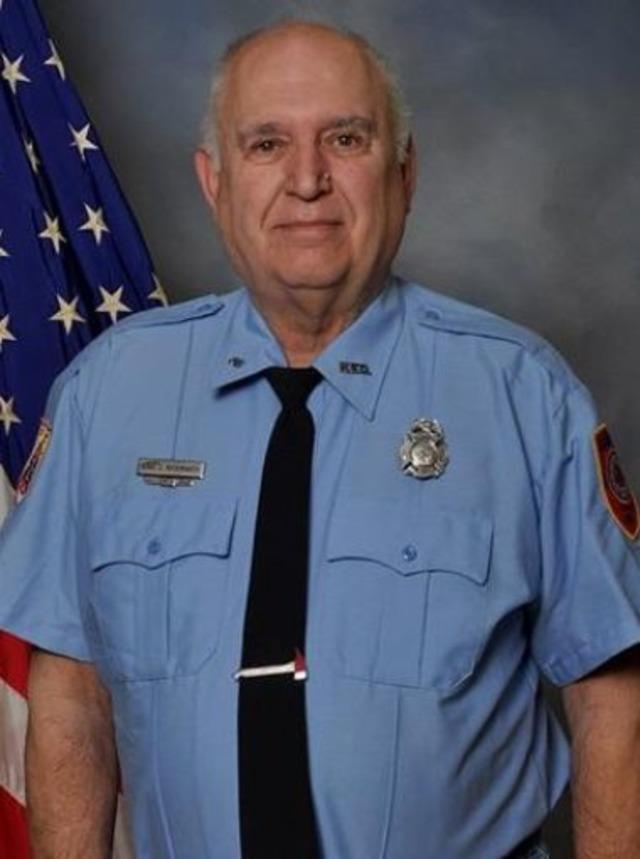 Hanover Fire Department
March 12, 2016
Suffered a medical emergency while driving an apparatus responding to a structure fire. On March 12, 2016, units from the Hanover Fire Department were dispatched on a mutual aid call for a residential structure fire on Pumping Station Road in West Manheim Township. Shoemaker was the operator and sole occupant of the department's air cascade unit. As Shoemaker was traveling on Baltimore Pike, he suffered a medical emergency. The apparatus left the roadway and traveled several hundred yards through a field, coming to a stop with the cab hanging over a creek bed. Shoemaker was rescued from the vehicle in cardiac arrest and transported to a local hospital, where he was pronounced dead.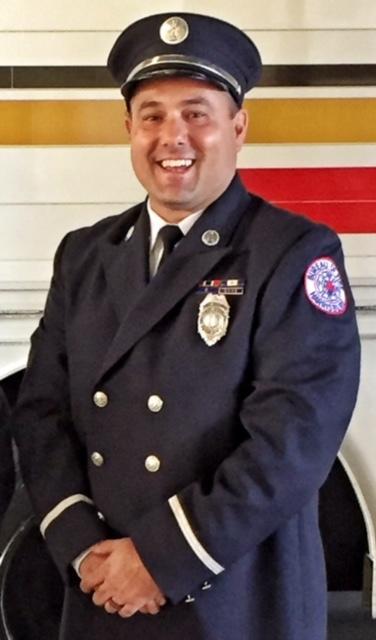 Fawn Grove Fire Co.
March 11, 2017
The Harrisburg Bureau of Fire was working a multiple-alarm structure fire in a rowhouse. The department issued a recall that summoned off-duty firefighters to the scene. Lieutenant DeVoe traveled toward the scene in his personal vehicle, a 2007 Toyota Corolla. He stopped at his fire station to pick up his personal protective clothing and headed to the fire scene.
As Lieutenant DeVoe's vehicle entered an intersection, it was struck on the driver's side by a 2013 Hyundai Elantra that ran a stop sign at a speed estimated at 49 mph. The force of the collision pushed Lieutenant DeVoe's vehicle into a parking lot where it struck a parked vehicle. The driver of the other vehicle fled the scene.
Lieutenant DeVoe was partially ejected in the crash. He was treated at the scene and transported to a local hospital where he later died as the result of traumatic injuries. Lieutenant DeVoe was not wearing his seat belt at the time of the crash.
The driver of the other vehicle was later arrested when she sought medical attention for injuries received in the crash. She was cited for operating a vehicle while intoxicated, speeding, and leaving the scene of an accident.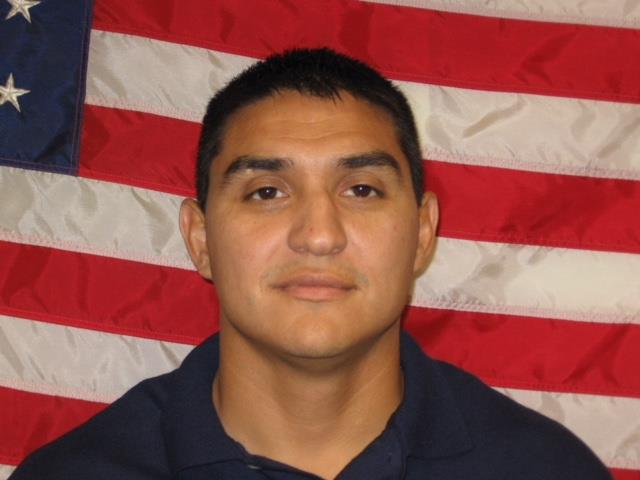 U.S. Marshals Service
January 18, 2018
Deputy U.S. Marshal Christopher Hill was shot and killed in Harrisburg, Pennsylvania while attempting to serve an arrest warrant with other members of the Middle Pennsylvania Fugitive Task Force.
The task force had located a woman, who was wanted for making terroristic threats, at a home in the 1800 block of Mulberry Street at approximately 6:30 a.m. As they attempted to take the woman into custody a man inside the home opened fire on them, striking two local task force officers. One of the wounded officers was able to return fire and killed the subject.
One of the rounds fired by the officers penetrated a wall and struck Deputy Marshal Hill. He was transported to a local hospital where he succumbed to his wounds.
Deputy Marshal Hill was a U.S. Army veteran and had served with the United States Marshals Service for 11 years. He is survived by his wife and two children.
Zachary J. Anthony & Ivan K. Flanscha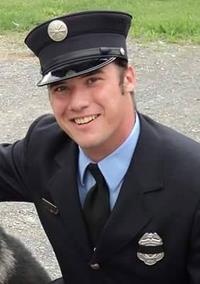 York City Fire Department
March 22, 2018
Killed by a building collapse at the former Weaver Piano & Organ factory fire. On March 21, 2018, units from the York City Fire Department were dispatched to the former Weaver Piano & Organ factory at 127 North Broad Street for a structure fire. The fire eventually went to three alarms, and engulfed the four-story building. Twenty-three hours into the incident, a crew of four firefighters was in the building attempting to extinguish pockets of fire when they were trapped by a partial building collapse. The crew was rescued and transported to York Hospital. Flanscha and Anthony succumbed to their injuries.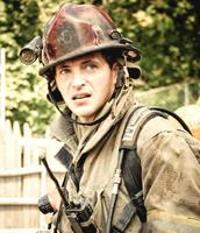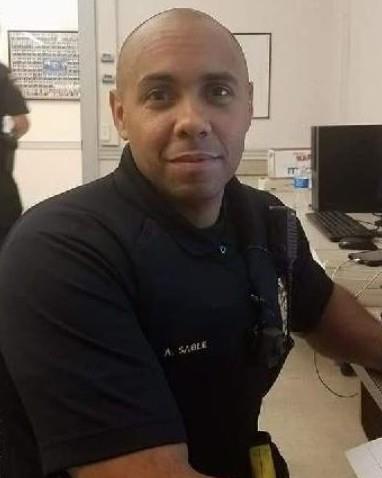 York City Police Department
May 9, 2018
Police Officer Alex Sable died after suffering a heart attack during a SWAT training exercise at Community College of Baltimore County-Dundalk Campus in Dundalk, Maryland, on May 6th, 2018.
He was participating in a SWAT school hosted by the Baltimore County Police Department. The participants were conducting a water rescue training exercise in a campus pool. As Officer Sable exited the pool at the end of the exercise, he suffered cardiac arrest. On-site medics and firefighters immediately performed CPR. He was transported to a hospital in Baltimore, Maryland, where he remained until passing away on May 9th, 2018.
Officer Sable served with the York City Police Department for four years and was a U.S Marine Corps veteran. He was a member of the York County Quick Response Team and is survived by his wife and three children.